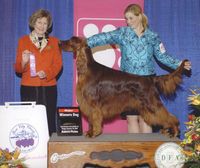 Sierra Lyn Expect The Best

Powderhorn's Fourth of July

A/C Ch Powderhorn Glory Road

Ch Avon Farm Coinbrook Citation

Ch Avon Farm Miss Kitty ROM
 Tommy was a wonderful dog.  Words cannot describe what a great dog he was.  His personality was  the best ever.  Always wanting to join in the game, whatever it was and always willing to please no matter what.  He was the most intelligent dog of any breed we have ever had the pleasure to own.  Tommy understood every thing you would tell him to do, almost like a 3 year old child.  He was the best retriever of any breed and was able to follow instructions.  We miss him very much.

We have frozen semen but only two breedings are left.